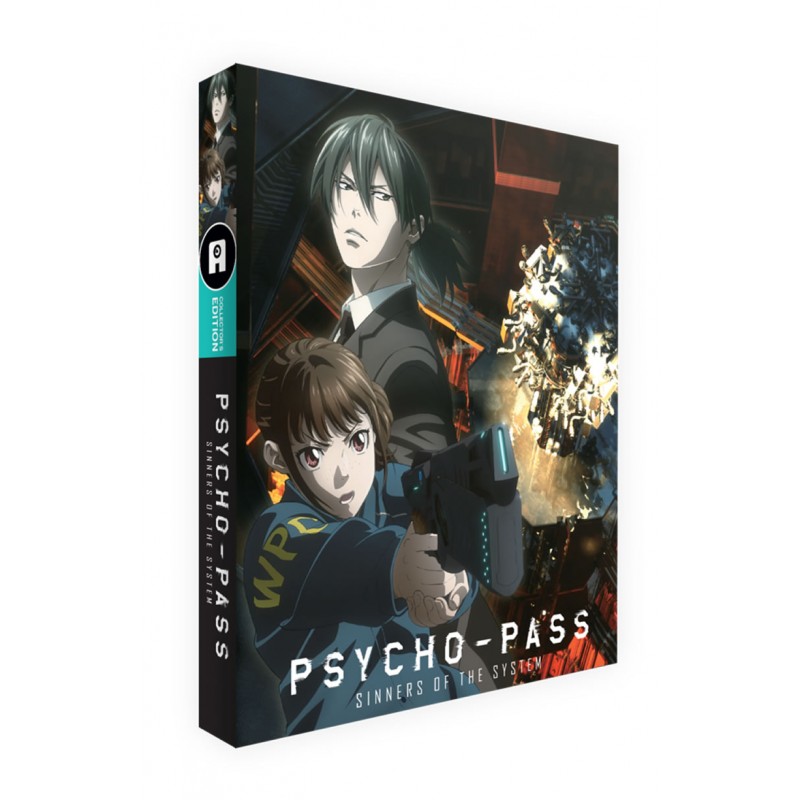  
Psycho-Pass: Sinners of the System - Collector's Edition (15) Blu-Ray
Publisher: Anime Ltd
Released: October 18th 2021
Classification: 15
Language: Japanese
Subtitles: English
Running Time: 180mins
Comes packed in a rigid slipcase with a Digipak to hold the Blu-ray disc.
Also included are two booklets - a 100-page "case files" booklet featuring all manner of character and location artwork alongside comprehensive interviews with members of the production staff on the films, and a 196-page storyboard book taking you through the entire set of storyboards for one of the three films to give you a comprehensive look at this fantastic set of additions to the world of Psycho-Pass.
Three very different stories from the world of the SIBYL system, each offering a different view within the Psycho-Pass universe.
Case 1: Crime and Punishment
In the winter of 2117, a runaway vehicle crashes into the the Public Safety Bureau Building. The driver is identified as Izumi Yasaka, a psychological counsellor at the Sanctuary, a Latent Criminal Isolation Facility in Aomori Prefecture. But right before her interrogation, Enforcer Mika Shimotsuki and Inspector Nobuchika Ginoza are tasked with promptly escorting Yasaka back to Aomori. What awaits them there is a false Paradise.

Case 2: First Guardian
2112; the summer before Akane Tsunemori was assigned to Division One of the Public Safety Bureau's Criminal Investigation Department. Teppei Sugo, an accomplished pilot of the Defense Army's 15th Integrated Task Force, joins the military operation in Okinawa. Three months later, an unmanned combat drone opens fire on the Ministry of Defence in Tokyo. Enforcer Tomomi Masaoka of CID Division One is dispatched to Sugo's military base to investigate the truth behind this case.

Case 3: On the Other Side of Love and Hate
Following the incident in the Southeast Asia Union (SEAUn) in 2116, Shinya Kogami resumes his vagrant journey. In a small South Asian nation, Kigali rescues a bus of refugees under attack by armed guerrilla forces. Among the refugees is a young lady by the name of Tenzin, who begs Kogami to teach her how to retaliate against the enemy. Just what do the girl who wishes for revenge and the man who has exacted revenge see as they gaze upon the edge of a world from which there is no escape?
Publisher: Anime Ltd
Released: October 18th 2021
Classification: 15
Language: Japanese
Subtitles: English
Running Time: 180mins